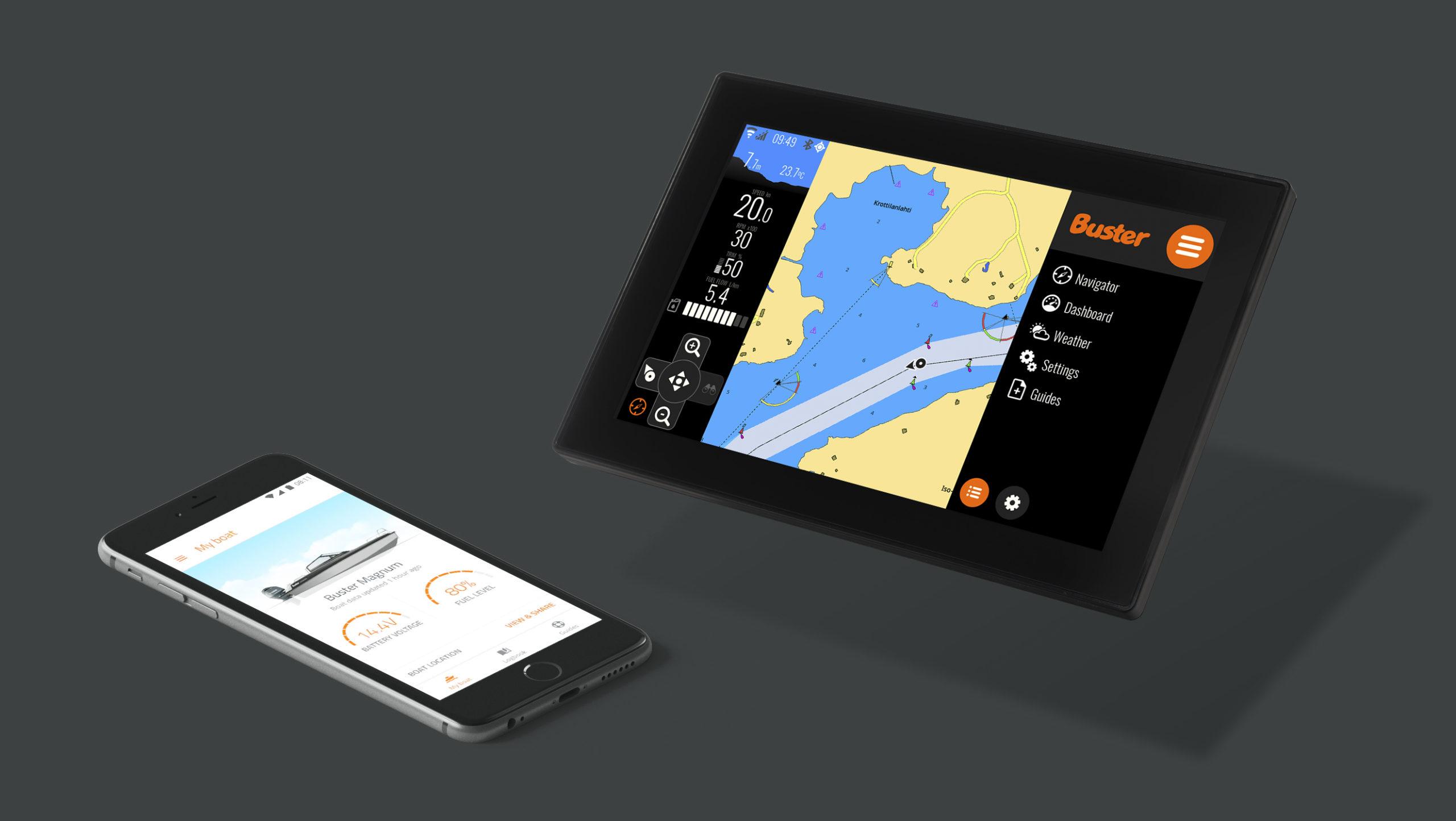 Q plotter – branded for Buster Boats
Nextfour and Buster Boats have been partners in crime since the idea of Buster Q was conceived. Buster Q is a branded version of Nextfour's own product, The Q Experience. All the Buster Q infotainment plotters are manufactured in Nextfour's premises in Turku, Finland, and then factory-installed to Buster Boats at their own factory in Ähtäri, Finland.
Buster Boats are known for their long-lasting mileage, and most of the Buster boats ever made are still in use. About 70 % of manufactured Buster Boats are exported, and the biggest international markets are in the Nordic and Baltic countries.
Branded smart navigation infotainment system for Buster
The co-operation between Buster and Nextfour started when Buster came up with a concept to create an easy-to-use infotainment plotter that would be branded for Buster Boats. Boating, as a way of life, wasn't being passed down to younger generations like it used to be, and boats needed to be more easy to navigate and use for all.
Buster contacted some bigger international plotter manufacturers, but the co-operation never really took off. Buster's Tomi Juhola had already met Nextfour's key people Niklas Öhman and Johan Wessberg, and the companies were already in talks about a smart alarm system for boats.
"We ended up with the decision that Nextfour would start manufacturing a Buster branded infotainment system. We got the first prototypes in 2015, were happy with those, and launched the Buster Q in 2016.", Buster's Tomi Juhola comments.
Long lasting co-operation for demanding conditions
The co-operation between Nextfour and Buster Boats is still very strong. Over the years they have worked together on many different projects regarding the Buster Q plotter. Nextfour was involved in the making of Buster mobile app for Buster Q, released in 2018. Buster has accordingly helped Nextfour with integrations and other boat manufacturers. "We've started to manufacture wire harnesses, and have gotten a lot of know-how from Nextfour on that."
Nextfour designs demanding technology for even more demanding situations and conditions. Buster does the same by designing long-lasting boats for the diverse seasons and weather conditions in the Nordic waters. "One of the reasons we ended up choosing Nextfour were the references of Nextfour's previous projects, which were also done for demanding conditions". Buster Q has gotten plenty of positive feedback from customers, especially for its big and clear screen, and easy-to-use interface. The focus of The Q Experience and Buster Q infotainment plotters has always been on usability, to make smart boating easy and available for all.
Nextfour is a one-stop-shop for turning your innovation into a product. You can see our other references here. Do you have a product development idea? Contact us and let's have a talk!
Contact us