Nextfour's marketing team consist of three talented people: Jonna Sulkanen, Anna Wessberg and Niklas Drugge. They all have very different backgrounds and skillsets they bring to the marketing table. Most importantly, they all have a passion on working with digital marketing, visuals, and great content.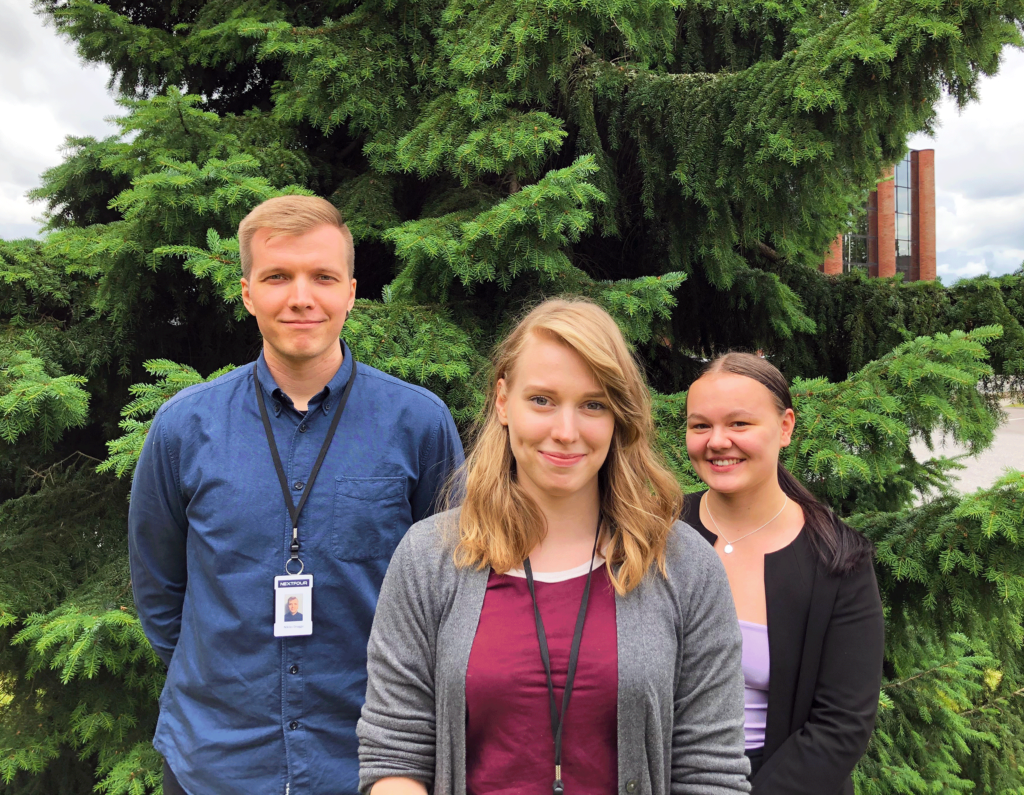 Jonna
Starting off as a marketing trainee this summer through a training program, Jonna will continue her work with Nextfour in the fall, when she will dive even deeper into marketing. She graduated from the University of Vaasa in the spring of 2019, with a master's degree on terminology and technical communications.
"Writing and creating have always been the most important things for me. Working in marketing really gives me the chance to make my ideas come alive and have an impact on things, which I love."
Jonna spends her free time wandering around forests with her dog, painting with acrylics, paddle boarding, traveling, and reading the likes of Harry Potter and Lord of the Rings over and over again.
Anna
Anna started working with Nextfour on the production side assembling backplates for the Q plotter. After enrolling in Metropolia University of Applied Sciences and studying digital design she gained more experience in digital marketing and started working with the marketing team.
"After my first year I knew I was in the right field, everything seemed interesting and I was eager to learn. Working in the marketing team that summer gave me so much knowledge about my own field and I felt enthusiastic to return to school. What I like most about working in marketing is that every work assignment teaches me something new. This is a very safe learning environment for a student like me. "
During her free time Anna likes to go running to nature and watch Netflix while knitting wool socks. She also has a dog named Luna that she likes to take on hikes all around Turku.
Niklas
Industrial and UI/UX designer Niklas also partakes in Nextfour's marketing team as a marketing coordinator and graphic designer.
"I have a very strong graphic design background, so creating visuals for design and marketing has always been very meaningful to me. Graphic design is also a big part of my other role as UI/UX and product designer. Often there's a lot of overlap in designing material for design concepts and for marketing, so they go well together. I'm really excited to get to work in a position where I can channel all my creative energy and skill to provide innovative solutions for product design as well as marketing and communications."
On his free time Niklas is immersed in music scene, graphic design, video games and entertainment in general. Plus some occasional outdoors activities like running and snowboarding.
Next up for Nextfour
Keep an eye out for more introductions from other Nextfour teams!
In the mean time you check out our new website and see what's new with our smart navigation product the Q Experience!