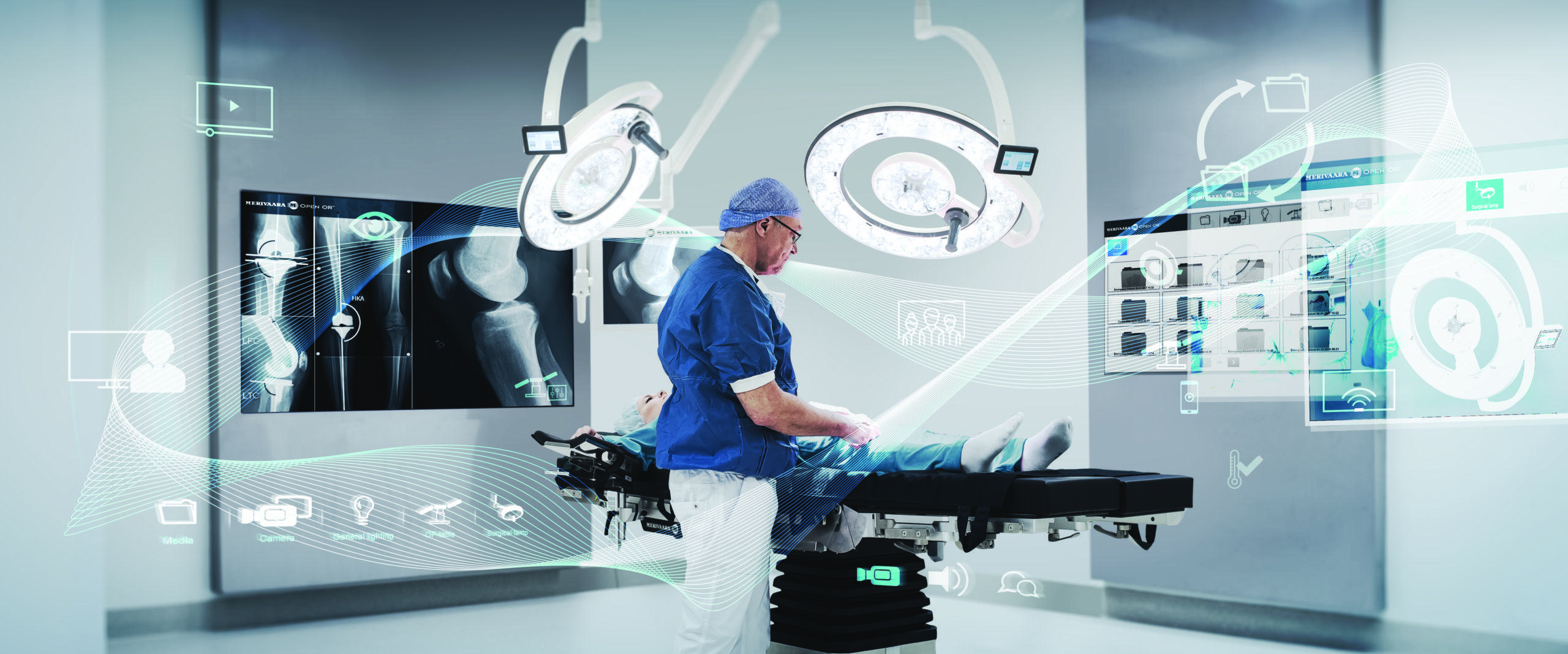 Merivaara designs and manufactures intuitive healthcare technology, focusing on surgery room solutions. They offer health technology with a human touch.
The company was established in 1901, and started off with producing metal beds that significantly improved hospital hygiene. Today, Merivaara is a leading healthcare technology company. It's software, equipment and services improve patient safety and increase the quality and efficiency of surgery operations in leading international hospitals around the world.
Nextfour and Merivaara have worked together on an operating room control system OpenOR, since 2011. OpenOR is a high capacity, future-proof control system that integrates all the operating room devices, data and image management into a single unit, with an intuitive and streamlined user interface.
Health technology with a human touch
Merivaara was founded in 1901 in Helsinki, Finland
Works in co-operation with healthcare professionals
Products include e.g. surgical lights, tables, monitors, and an integration system OpenOR
Makes it possible for professionals to concentrate on the patient instead of technology
Nextfour and Merivaara creating safer operating rooms
Merivaara has an unique combination of different operating room products that set them apart from other similar companies. One of them is an agile and custom-made operating room system that has been developed together with Nextfour.
Merivaara's products are designed for a typical healthcare professional who may not be that used to modern technology. That's why the technology used in surgeries has to be incredibly easy-to-use even in the incredibly hectic environment. A good user interface has been one of the key features in our work together to create a seamless operating room.
"The devices and their interfaces have to be pleasant and easy to use when the user environment is as hectic as it is in a surgery room and you have to operate the devices under a huge amount pressure", explains Merivaara's CTO Jyrki Nieminen.
Nextfour bringing bigger ambitions to live
The co-operation between Nextfour and Merivaara started in 2011. Merivaara had big ambitions on creating an integrated operation room control system and their supplier of the time couldn't quite answer their needs. This is when they found Nextfour and asked for a preliminary report on the concept of an integrated operating room; how would it be done, what it would be like, and what would be the costs?
"From the start with the preliminary report from Nextfour we saw that our order was taken seriously and we got new point of views for the whole project. In 2012 we made the decision to start developing this project with Nextfour and right away got the needed manpower. In six months we had a readiness state for the system."
The system's first demonstration went so well that there was an order placed for it before it was even finished. Now, in 2020, the co-operation between Nextfour and Merivaara for the OpenOR system is still going on. There have been different generations of the system on the way, like the IP based one in 2013, and a lighter system in 2014.
Actual part of the product development
Merivaara and Nextfour have worked together on e.g. embedded software and electronics design. One of the key services from Nextfour has also been UI/UX design, since a good user interface is critical for the OpenOR.
One of the best things about Merivaara's work with Nextfour according to Nieminen has been the effort put into the whole project: "What we've always liked is that when we have an idea and we tell about it to your [Nextfour's] team they always help us to refine it and result in a better idea than what the original was. We don't just buy the work, but rather actually get help with our product development process."
Usability has also been one of the things that has worked seamlessly in the co-operation. Nextfour has been able to offer high enough usability in the user interfaces for such a demanding field as medical work. The co-operation has also included continuous maintenance for the operating room control system.
Focus on the patient – not on the technology
The best customer feedback on the OpenOR system have been the situations where healthcare staff has been able to start using the system before any training or introduction. This means the user interface is so easy to use that the medical staff can focus on the patient and not on the touch screen.
The operating room system has been created together with Nextfour "on a higher level of creativity" and it's improving the everyday work of the professionals in operating rooms around the world.
You can see more details about the OpenOR from Merivaara's video below!
Nextfour is a one-stop-shop for turning your innovation into a product. You can see our other references here. Do you have a product development idea? Contact us and let's have a talk!
Contact us