How much effort have you put in your product's usability?
User experience and usability should always be a top priorities in product development.
Why usability is so important
To put it simply, people won't keep using your product if it's usability is bad.
No one wants to use a product or a service that keeps buffering or giving you error codes all the time. Properly and pleasantly working interface is a demand for today's smart devices and services to succeed.
What is good usability?
Usability means a lot more than just an interface that works. Here are 5 components that form the definition of usability.
Learnability. Is your product's interface easy enough to use? Users should know what to do the first time they see your interface's design.
Efficiency. How efficient the interface is? Users should be able to quickly do what they came to do with your product.
Memorability. Is your product easy to return to?
Errors. Can users accidentally make errors in the interface? The errors should be easy to recover from, so people can still easily keep using your product.
Satisfaction. How pleasant is it to use your product's interface? User experience is always enhanced when the interface is actually nice to use.
How Nextfour focuses on good user experience
A good user interface is one of the biggest factors in forming a better user experience of a smart product.
Nextfour offers a wide range of services that focus on UI and UX design. Our goal is to find and implement the most intuitive way for the user to interact with the product.
When it comes to smart products, user interfaces are often done with digital touch displays, a.k.a touch screens. Nextfour provides its customers comprehensive design with smart devices and their displays, while providing a constant and coherent user interface with logic.
We do a lot of user research and interactive UI prototypes to evaluate and improve the smart device's overall usability and user experience.
Take a look at our past work in UI/UX
One of our biggest projects on UI and UX design has been with our own product: The Q Experience.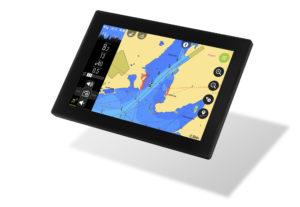 The Q Experience can be found in thousands of motorboats from brands like Buster Boats, Yamarin, Yamarin Cross and Askeladden. You can read more about our work with Buster Boats here.
Our other projects with UI and UX design have been for example with:
Boost your product's usability
Do you need help with product development or making your product's user interface the best possible it can be?
Nextfour is an agile project house for product development. We have focused on regulated business areas such as medical and marine industries.
Contact us and we'll discuss more about your project!